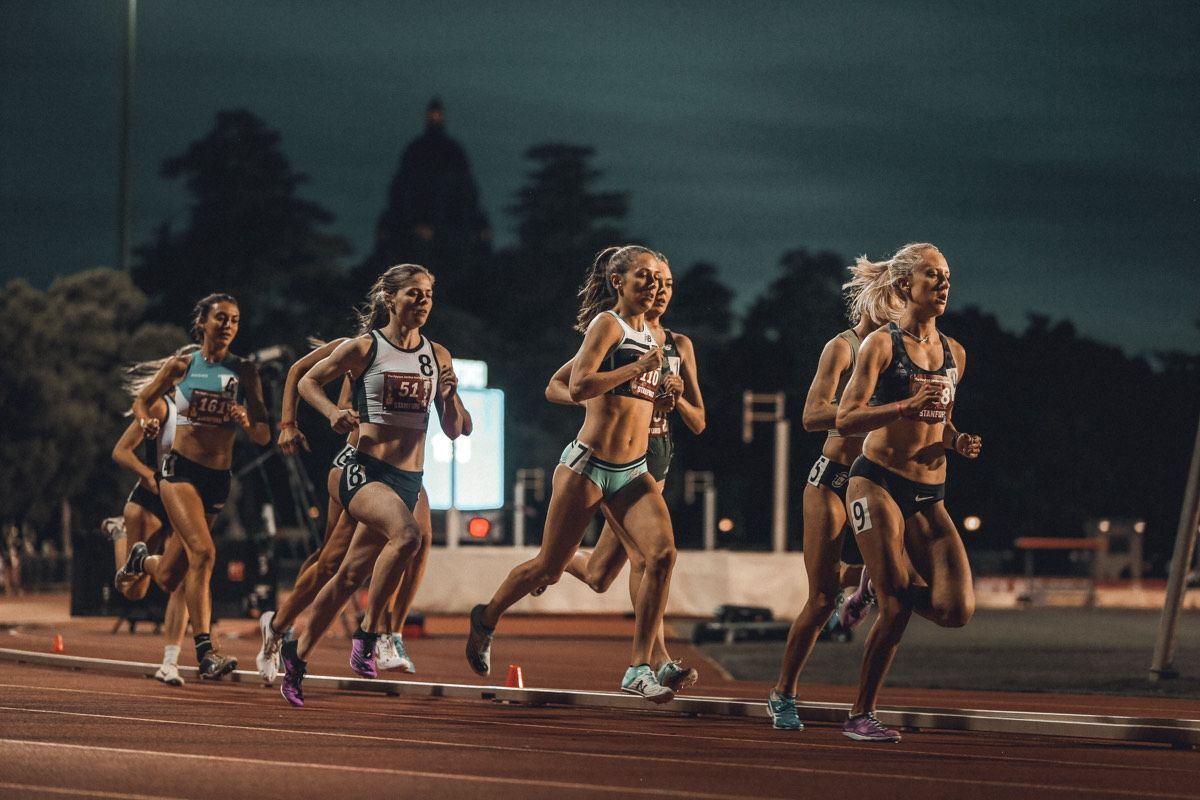 Trick Yourself into a More Positive Mindset
During the first installment of this series, Irish 800-meter record holder Síofra Cléirigh Büttner talked to sports psychologist Jim Afremow about how she used meditation as a coping tool while an All-American at Villanova, the benefits of visualization, and balancing intensity and calm on the track. Then in part two, Síofra shared the benefits of "unthinking," how she handles it when her race plan falls apart, and treading the fine line between confidence and humility.
In this third post, Síofra riffs on how she used the Champion's Mind app to bounce back from injury, shares the best lesson she ever learned from a coach, and reveals she nailed the transition from college to the pros.
Tell me about the mental component of your comeback after injury kept you out of this year's World Championships.
It was a small plantar tear. It happened when I'd just downloaded the Champion's Mind app, which was interesting timing. After I got hurt, I would sometimes listen to a few segments when I was on the bike or the elliptical. It helped motivate me to cross train because obviously I would have preferred to be running.
The app also gave me a positive outlook and attitude. I like to be around people when I'm not fully fit or confident because that counterbalances the negative self-talk. Being with teammates and family members has helped a lot because it has made me be more upbeat and grateful.
Outside of that injury, what has been your biggest mental challenge in transitioning from being a college athlete to a professional one?
Last year was an interesting one. I graduated in May of 2018 and was still competing for Villanova through June. Then I was running for Ireland in July and August. I had a good NCAA season, although I would have liked to do better at nationals. By July I was past my peak, so I was happy enough with the rest of the year, but not fully content. I was also working on trying to get in with a group and find a new coach. And I wanted to be in the US because I think that's where track and field is very strong. It's where all the races, sponsors, and coaches are.
So I was reaching out as much as possible, but because I'm not from the US, it proved to be a little bit more difficult to get these contracts and get into these groups because some of them were specifically for Americans. I thought it would only be a few months, but it actually took a lot longer than expected. Sometimes I got a bit impatient and I was still racing and training. But then this past spring, I linked up with New Balance Boston, and it's been great since.
It's been a transition, obviously, but I PR'd in my first five pro races because I hadn't run as many miles in college and the workouts weren't super hard. My college coach left room for me to grow and improve after I graduated. My coach now, Mark Coogan, was an Olympic athlete and then a college coach. So he's been through it all. He approaches coaching in a simple way, which is great because he doesn't throw a bunch of stuff at us. We have a very balanced training-versus-life routine, which I think is important for professional and even college athletes. I'm even more grateful for the opportunity that I have with this group because it took me so long to get here.
What have you learned about being a good teammate?
It's similar to being a good friend. You don't want to be thinking about yourself too much because as a group you can accomplish more and the pressure is less. I think that's why a group tends to do so much better than an individual athlete who has no one to train with because there's so much pressure and weight on them. As they say, a problem shared is a problem halved.
Back in college, my teammates and I were competing for each other, for the school, and for our coach. We were a part of something bigger than ourselves. That's still a very big thing for me. It's not all about one person, but rather the support system around you. I also run for my country and a company I believe in. I have my goals and my teammates have theirs, and we're working together to reach them. It's so much easier to gain positive energy and bounce off each other.
At Villanova when I was a senior and we had a fifth-year runner on the team as well, we tried to tell the whole team that no matter how young you are, everyone is equal and should be like treated with respect. In the Legacy book about the All Blacks, James Kerr mentions the "sweep the sheds" concept. That's really important for team culture. Even if you're the team captain, you shouldn't be above setting out hurdles or cleaning up after practice. Or doing some of the dirty work if you're a freshman. You're never above anyone else, and if you respect other people, they'll respect you.
What's the best lesson you ever learned from a coach?
One that has stuck with me is that my college coach would tell us to be in charge of our minds so we could trick ourselves into feeling a certain way. It was all about attitude. If someone was complaining about not feeling great or that their body was sore, she'd say something like, "When I was an athlete, I always got excited when I felt like that because I knew that when race day came, I'd got all those bad feelings out of me." She'd also try to put a positive spin on things by saying that feeling good in the moment is overrated and that when we had to perform, she knew we'd be ready to go. Don't moan about not feeling good when it doesn't matter. That might seem harsh, but it was really a good way to trick her athletes. And it worked.
How do you juggle sticking to your training plan and making adjustments based on what your body is telling you?
I'm a pretty laid-back person and I think that I've been successful because of that. I'm very balanced. I don't really get injured that much, which is probably due to listening to my body and my coach. I don't try and overdo anything. That's part of who I've always been – easy go lucky and someone who enjoys being present. I think that's been a real blessing for me because in track and field you can overdo it so easily.
As a group we want to always be working, working, working. But it can really be detrimental in the end because you can get hurt from doing too many miles or going too hard. Also, I've always had great mentors and coaches that have never really pressured me. In college, we would be encouraged to run easy if we had a cold or were feeling a little under the weather. That has allowed me to pass that mindset on to other people. So if a teammate has a sore throat, I'll tell them, "Just be aware of it. You know your body better than anyone else. Be cautious, because you don't want to make it into a bigger problem than it is."
Want to use the same mental training tools as Síofra? Download the Champion's Mind app for iPhone or Android today.
This interview has been edited for clarity and brevity.