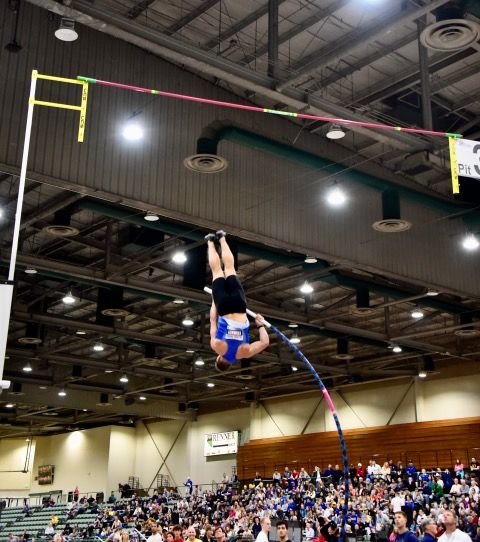 Heading into a competition, you need to strike just the right balance between calm and energized. Go too far one way and you might be too sluggish, and go to the opposite extreme and you'll be worn out before you even get going. In the fourth part of our conversation with Tokyo Olympics pole vault hopefuls Alexandra (Alex) Pevtsova and Garrett Starkey, they discuss their pre-meet playlists, the need for ample rest, the importance of community, and more.
What does it feel like when you nail a perfect vault?
Alex: You're jumping and then flying through the air – there's nothing else like it. Sure, you could jump out of a plane and skydive, but with vaulting, I've jumped onto a pole, turned myself upside down, and now am defying gravity for a few seconds. It's the coolest feeling when you get to do it. Other than that, the part I like best is the friendship aspect.
I probably get more excited when our season comes up to get to see all of our friends that we haven't seen in a year than I do about competing because I know that for the next three to six months we're going to hang out every weekend and travel all over the country as a group. We've all grown up together, progressed in our sport, and seen each other develop from kids into adults. That makes you really close.
Garrett: Pole vaulting is such a tight community. I know all my competitors and we're best friends. I love traveling to meets with them. We all want to win, but no matter who does, it's a great time pole vaulting together. Everyone is in the same boat, so we understand the pressures. When we're not vaulting against each other, we get together off the field and have a lot of fun. As far as the actual pole vault goes, I've always been an adrenaline junkie and risk-taker. I love jumping my motorcycle and doing crazy stuff. Pole vaulting satisfies that need for me. You get to jump over the equivalent of a two-story building with a pole! I love the adrenaline aspect of it.
How do you keep all that energy in check before a competition?
Garrett: One thing that had changed for me is the type of music that I listen to beforehand. I used to fire up heavy metal songs to pump me up. I eventually found that if I did that too early, I'd have adrenaline going all day before the meet, and then I'd show up and feel flat and fatigued on the runway. So now I try and be a lot more relaxed during the day leading up to the meet. I listen to calm, peaceful music earlier and then put on a faster playlist 30 minutes before I'm going to vault. This way, I'm getting amped up at just the right time.
Alex: In high school, I didn't even do any type of preparation for a meet. I'd be sitting in class until 2 PM, then the teacher would let me out to get on the team bus. So it was just like any other day – I just got to leave earlier. I still didn't do anything special when I got to college. But I soon realized I had to hone my pre-meet routine. That includes having a good breakfast and relaxing like Garrett said. Also, I try to chill out as much as I can and stay off my feet. A lot of my teammates liked to go to a mall the day before a meet. But when I went along, spending a couple of hours walking on a flat, hard surface made my legs dead the next day. So I started skipping it and just lying around, as that helped me feel fresher.
Garrett, you mentioned that everyone in your friend group wants to win, but only one of you can. What goes through your head when that isn't you?
Garrett: Pole vaulting can go a lot of different directions in a meet. There are a lot of factors that have to come together for me to be my best. I know I'm not always going to hit a personal best every single time. That being said, I try and be positive after each competition. I'll analyze which things went really well and what I can change next time so the variables line up better.
Want to stay calm and collected before a meet or game like Alex and Garrett? Download the Champion's Mind app for your Android or Apple device now.
Miss the previous parts in this series? Click the links below to catch up.