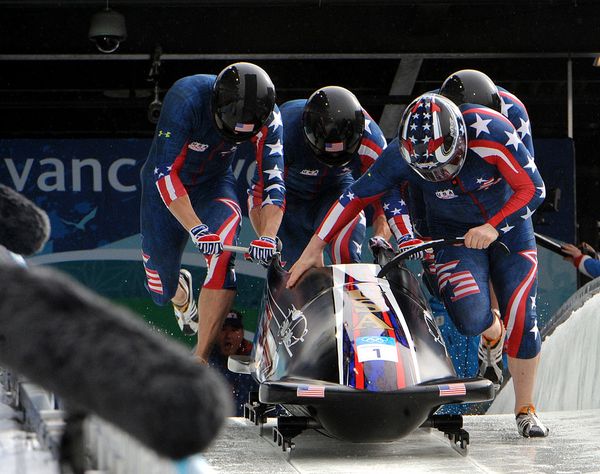 Many athletes only get one shot at claiming the biggest prize in their sport. Yet for a select few who can stay in the game long enough, there's a chance to either repeat their success or redeem themselves. Going into the 2006 Torino Winter Olympics, the USA four-man bobsled team was expected to give the German favorites a run for their money but finished seventh. Here's the story of how Steve Mesler hit a mental reset button and came back more resilient than ever to help his team capture 4-man bobsled gold at the second attempt at the 2010 Winter Olympics.
When you were preparing for the Olympics, what relaxation techniques did you use?
At the 2006 Games in Torino, we got seventh place and I was furious, angry, and depressed. I was having a hard time training and knew I needed to find some kind of new hobby. So I started fly fishing. I was living up here in Calgary and on Sunday mornings starting in the summer of 2006, a couple of buddies and I would get in the car and drive two and a half hours to different rivers, streams, and creeks. Then we'd hike up river, fish, hike back, and then drive home again.
That's the last thing physiologically you want to do if you are a speed and power athlete. I was carrying 20 or 30 more pounds than I naturally should be or am today. At first my coach Stu McMillan, who now runs the Altis program down in Phoenix, was pissed off. He wanted to know why I would do that on my day off from training. How could I get in a car for five hours and hike for 12 hours? On paper, that's the worst thing in the world for a power athlete, especially a big, 215-pound power athlete.
And yet on Monday mornings when we would do hurdle hops and power cleans, all of a sudden, my numbers started going through the roof. And when we sprinted in the afternoon, I was setting new PRs. And the next thing I knew, Stu was asking me if I had gone fishing the day before because what we realized was happening. During that long car ride, I would be with my buddies and we'd just shoot the shit the whole time. We'd get on the river and all I was thinking about was the path of the water and the fish. And for the duration of those 12 to 14-hour Sundays, I was focusing on the opposite of what I'd spent the previous six days thinking about.
It really lowered my cortisol level to the point where I could get rid of all my stress. And when that happened, the natural thing was for my body to boost its testosterone level. The key to getting these benefits was simply finding a way to distract my mind.
As you couldn't recreate your fishing trips at the Games, what did you do instead to stay loose and calm?
Well, clearly you can't go for a five-hour car ride and fish for 12 hours the day before the Olympics start. That's not a feasible thing to do. Or the days before World Cup races. So I had to identify what was going on during those fishing Sundays. The main benefit was letting my mind completely disconnect. And the only thing I could think of that would do something reasonably similar was singing in the car. If you're an athlete and you sing along to the radio in your car and try to have your mind go someplace else, I bet you can't do it. At the Olympics I wasn't driving, but I figured I could walk around and listen to music.
The night before the Olympic race at about 7 PM, I put my sweatpants, winter hat, jacket, and headphones on. Then I went for a walk around Whistler. Bedouin Soundclash was my favorite band at the time- they have a drum-based, big sound.  I walked around for 45 minutes singing out loud. Imagine this big, hulking American bobsledder wandering through the Olympic village. I bet the other athletes got a kick out of it. That was enough to just de-stress me and get myself ready to perform. I would do this before all our World Cup races too.
What did you do from a mindset perspective to get in the right head space to compete at your best in your second Olympic final?
In bobsled you compete on two different days. On day one, there are four heats. If you mess up one time, that's it and you're talking about a game of hundredths [of a second]. So there is no room for error, which is not an easy thing in our sport. That first day was all about trying to stay calm and focused.
I actually think it's pretty toxic for an athlete to start their pump-up routine hours before they compete or play. Your adrenals will just blow out. If you get yourself hyped up as you're leaving your apartment or dorm in the Olympic Village, that's too long. So for me it was all about staying as relaxed as I could. I always loved the smell of the ice and as I walked out on day one in Whistler, I'll never forget seeing my family holding a Team USA Olympic flag, a Florida Gators flag, and a "Steve on a stick," where they'd laminated a picture of my face and put it on a pole. It was great to see them and realize how much fun they were having. And it gave me a good laugh before I started warming up.
Going into day two, we were up by about four tenths of a second, which is lightyears in bobsled. It's like your team being up 35 to zero going into the fourth quarter of a football game. It's basically done. And we were going against a German team, with André Lange as the driver. They'd never lost at the Olympics. This guy had four gold medals, but on that day, they knew the race was over.
I remember waking up like it was a Christmas morning when I already saw the toy I wanted in my parent's closet the day before. All I had to do to get it was to go to sleep and then wake up again. And then instead of getting the Christmas toy I'd always wanted, I'd fulfill a dream I'd had for 20 years. I recall waking up at about 6:30 AM and making my way over to the dining hall. All of our coaches and mechanics were in there laughing and joking. When they saw me, they stopped because they didn't want to do anything to throw me off my game.
I grabbed breakfast, went back over to them, and sat down. They were still quiet. I said, "What's wrong with you guys? It's all good." At that point they realized what I needed from them was to just be normal around me, and they went back to laughing and joking. And that's what it was always like for me – trying to keep things as normal as possible.
My coach Doug Brown at the University of Florida always told the student athletes going to the NCAA meet, "You don't have to do anything special. Sometimes you just have to be there." I really tried to apply that because if – as I said earlier about having an Olympic mindset – you approach every day like it's the Olympics, when you actually get there, you've already dealt with that kind of stress on a daily basis. So now it's normal. Whereas if you wait until the Olympics or your biggest game to put that stress on yourself, it's going to feel different and that's when you risk tightening up and choking. When I got to the biggest moments, I was ready. That's how I got there and that's how I think we were so successful.
Stop Settling for Silver
Want to emulate Steve and fulfill your true potential in sports and life? Download the Champion's Mind app for your Apple or Android phone. Click Go Pro in your account tab to unlock 100+ audio sessions.
If you're a coach, we'd like to share more with you about how your athletes can benefit from our team license. Click here to start the conversation.
Miss part one of Steve's story? Catch up here.