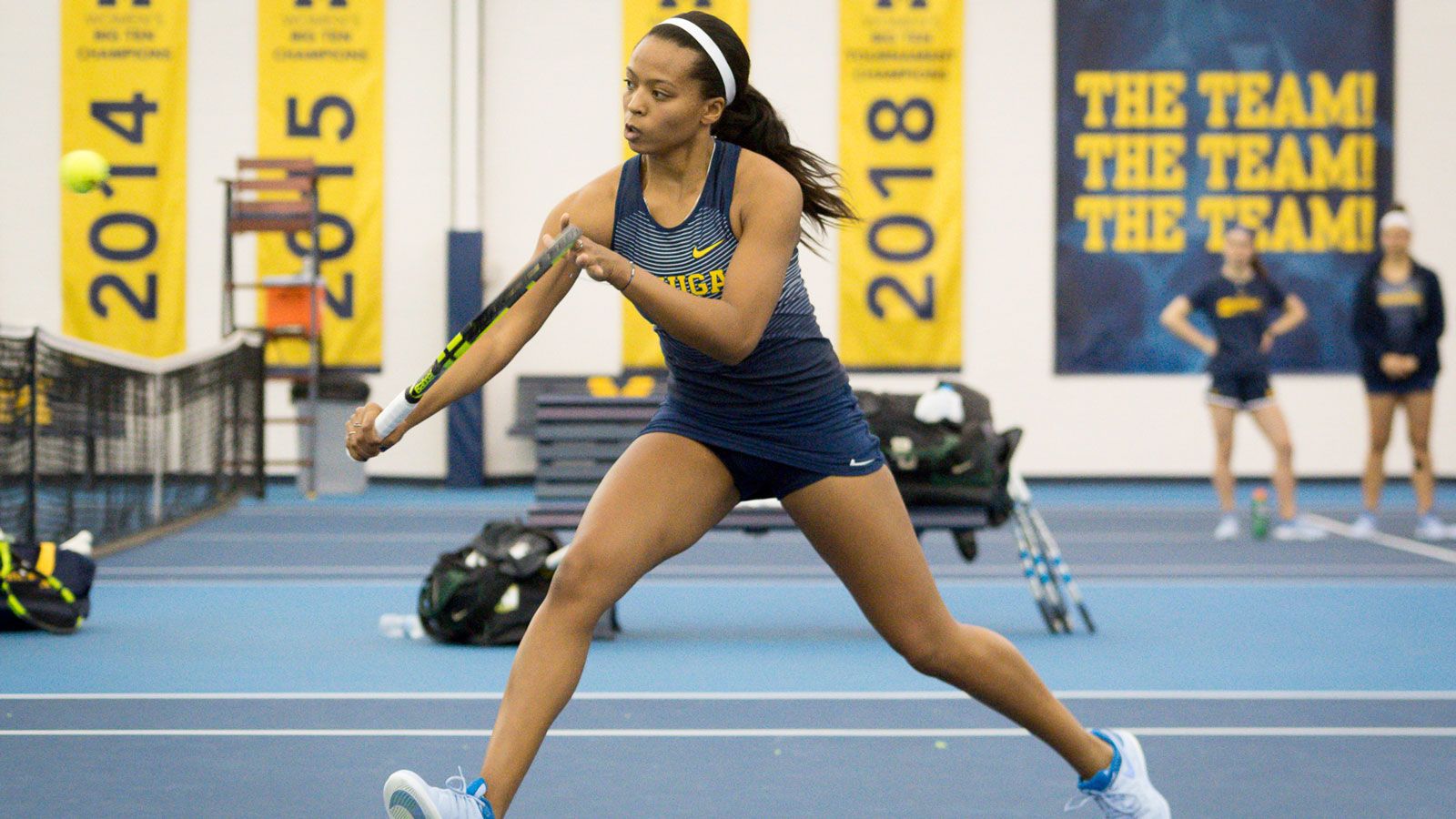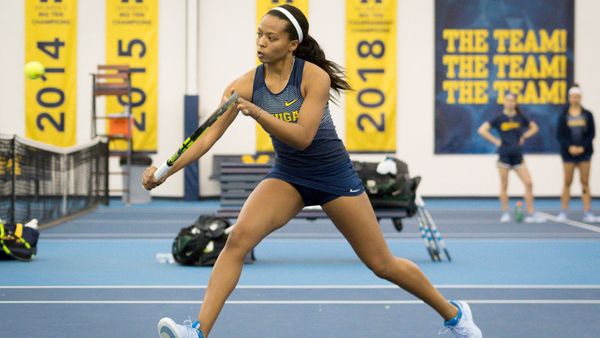 Tennis is technically an individual sport, but at the high school and college level, most players are part of a team and even singles specialists compete in doubles. In this continued conversation with 2017 NCAA champion Brienne Minor, she shares how she contributed to University of Michigan's squad, the comradery between her and teammate Kate Fahey that took them all the way to the Division I title game, and how setting a secret goal helped her reach the pinnacle of collegiate tennis.
You and your Michigan doubles partner Kate Fahey made it all the way to the NCAA title game. What did you like most about playing with her?
First of all, she's an amazing tennis player. She's strong, aggressive, and doesn't miss. Throughout our college careers we played together at some point in the season, but our senior year we were partners the whole time. That helped us to trust each other and our games meshed well together because she's solid from the baseline and I like to move a lot at the net. So we really complemented each other well.
I don't think she was expecting us to do much in the NCAA doubles tournament and neither was I. That's probably why we were so relaxed and played so well together. Kate was a great teammate. She's very intense and pushed every single person during practice. It made us want to work harder for each other.
How did you develop as a teammate while playing at Michigan?
I would try to do my best in games and at practice to help the other person because that's what you need to do as a team player. You are focusing on making yourself better, but you also want to be a good practice partner for the person across the net.  I tried to help my teammates become better on the court and take care of them when we were off it. It wasn't just all tennis. We had a lot going on with school as well. I did my best to keep everyone together and close knit. I don't know if I succeeded, but I tried.
What did you learn from your college coach that helped you succeed?
With my knee issues, I used to get down on myself a lot. My coach would always remind me of how good I was in those moments and told me that I was capable of reaching the top. Then she'd tell me that the only way that I would reach that point is if I believed in myself. She also encouraged me by saying that I was good at lots of other things, too, and that my whole life shouldn't just be about tennis all the time.
Who do you want to emulate?
I would say two of my teammates , Kate Fahey and Chiara Lommer. Their mental approach was incredible to me. With Chiara, the team result always seemed to come down to her match, like at the Big Ten tournament. In those situations, she'd win every single time and it seemed like she wouldn't miss a ball. She knew she was going to win for the team. That was so inspiring to me.
She and Kate are similar players in that they're grinders who make a lot of balls, whereas me and a couple of our other teammates were more like boom, boom, boom – we wanted to hit hard and get the point over with. It was impressive to watch them and I aspired to have their mental game.
What role does goal setting play in your mental approach to tennis?
Before my freshman year, I didn't really understand how the game worked at the college level or what playing in the NCAA was all about. But once I'd played in a whole year's worth of games and tournaments I settled on a goal: I wanted to be an NCAA champion. Then I wrote it down in a notebook, "I'm going to be an NCAA champion." I didn't tell anyone else because I didn't want anyone to say that they were picking someone else to win nationals. I didn't want that talk in my head. I once heard someone say, "You don't need to tell someone your goal, just show them your results," and that's what I decided to do.
Is Your Team Mentally Prepared to Win?
As a coach, it's likely that you've equipped your athletes with the tactics, technique, and fitness they need to excel. But is their mindset up to the same level? With the Champion's Mind course, your athletes will learn how to thrive under pressure, bounce back from injuries and setbacks, and stay in the zone. Want to learn more? Tell us about your team.
Catch Up on This Series
Did you miss the previous installments of our conversation with Brienne? Then click the links below to get inside the mind of this NCAA champion.
How an NCAA Tennis Champion Stays Confident and Committed
How Positive Self-Talk Powered this Tennis Player to a College Title