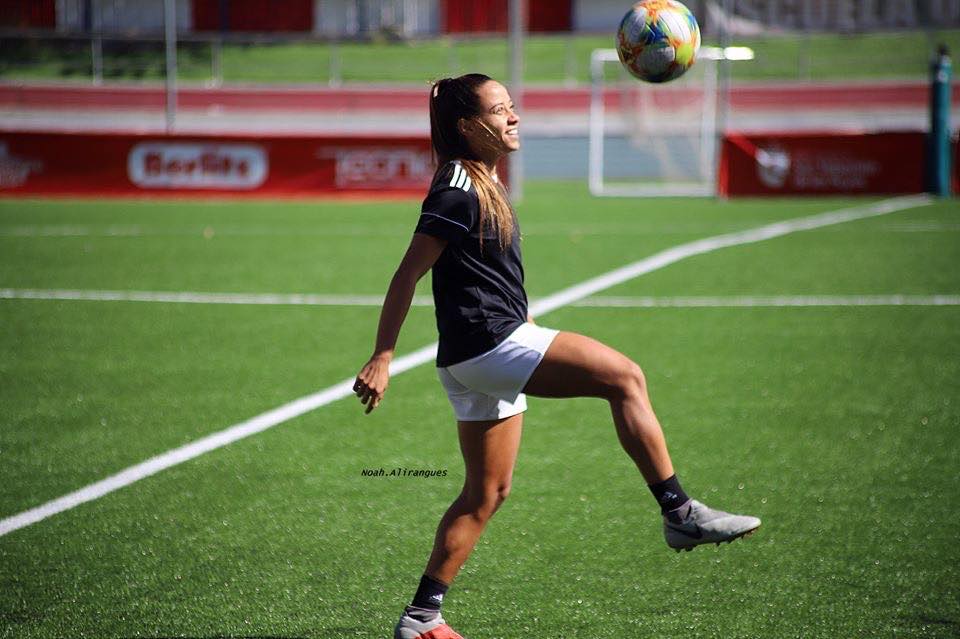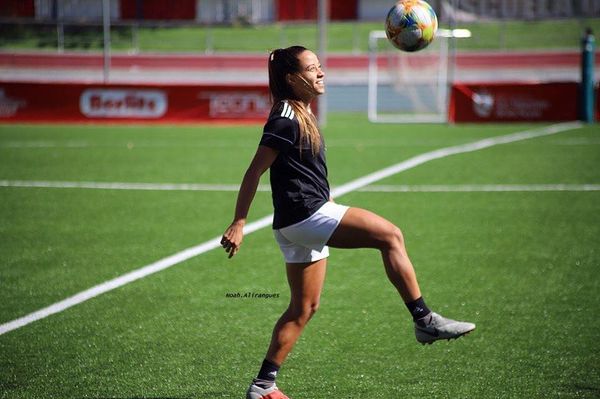 Growing up in Belo Horizonte, Brazil, Bruna Tavares dreamed of emulating her sporting heroes and playing pro soccer. Through years of hard work, she earned a scholarship to Monroe College. When she transferred to Franklin Pierce University, the speedy forward earned All-Conference honors on the field, made the Honor Roll in the classroom, and helped the Ravens reach the NCAA national tournament. Her stellar play led to Madrid CFF signing Bruna to a pro contract in August 2019.
In this first installment of a three-part interview, she shares about her country's love of "the beautiful game," and details her goal-setting strategy, and reveals other mental skills - like visualization, breath work, and positive body language and self-talk - that helped her balance competing and studying.
Tell us a bit about growing up in Brazil and falling in love with soccer.
As everyone knows, Brazil is the country of football. It's the main sport and every kid wants to be a professional player. For me, it wasn't any different. I grew up playing football in the street with my neighbors and I was the only girl. In the beginning, it was hard for my parents to let me play with 12 to 15-year-old boys, but then they started realizing that I really enjoyed it. Also, my friends' parents used to tell mine that I was talented and that they could see that there was something special about me. I began playing football when I was very young – about nine years old. Later on, I started to play at my school with my friends, and again I was the only girl. Some of them didn't like playing with me, some of them didn't care, and a few of them are still my friends to this day. Now we talk about how happy we were back then with a simple ball.
However, the level of football in Brazil should be better. Every Brazilian player who wants a bright future goes to Europe, both men and women. Why? Because Brazil doesn't provide a good structure for it. It's embarrassing how they deal with women's football in Brazil, with all the potential we have, all the players who have the natural talent and a passion for the sport. They should support it as much as countries such as the USA, Spain, France, and England do.
What mental skills did you use in college and how did they help you (e.g., goal setting, visualization, positive self-talk, deep breathing, mindfulness meditation)?
Playing in college sounds easier than it actually is. Just because the season is shorter and the players are younger, people tend to think college is easier than other levels of play. I've been on both sides and I can say that there are differences, but it doesn't mean one is easier than the other. Playing in college made me learn about mental skills like self-control. I even had to learn how to breathe right. All of it was new for me, as I had never even heard about mindset in Brazil.
Mental skills were essential for me in college, dealing with two games per week, classes, training sessions, treatment, two-hour team meetings, and more. It wasn't easy, especially knowing that I must get good grades to be eligible to play. Goal setting, visualization, and deep breathing are the mental skills I used the most. I like to set small goals, which will lead me to my big goal. For example, in my last season, I wanted to be the league, district, and national champion. So, I created a goals worksheet that looked like this:
*To win the national tournament, I've got to win the district and league
*To win the district, I've got to win the league
*To win the league, I've got to have a good preseason, be consistent in practice, take care of my body, stick to my diet, work on my mental training, and transfer what we do in practice to games
This is just an example, but I like to achieve small goals every day in order to get to my main goal. I don't like to think only about the big goal, because it is in the future and knowing that I can do nothing about the future can be very stressful.
What mindset techniques or coping strategies did you use to deal with living so far away from home?
Positive self-talk and deep breathing helped me a lot. By using uplifting self-talk, I could picture images of my family and happy moments we had together. Deep breathing helped more in moments of difficulty when I couldn't be in Brazil with them and couldn't do anything to help with whatever they were dealing with.
Check back soon for part 2!
Want to set, meet, and exceed goals like Bruna? Then download the Champion's Mind app for Android or Apple devices now!